[wpdevart_youtube]vJFY6_uDGk4[/wpdevart_youtube]
"I don't know how you do it, Vicki: the book and the CD. I so admire your vitality, artistry, and sheer goodness. Your message is one of hope and faith, so desperately needed in our time of woes. You counter that with your beautiful soul and voice, like refreshing water in a desert".
Dr. Carl Lofy, Theologian and Author
Click below to listen to a sample and buy the album: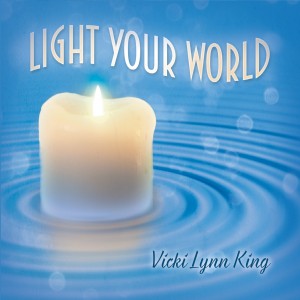 "I LOVE Vicki's version of I Hope You Dance! You have just got to  click on some of Vicki's songs. She's a light in the darkness!"
Marilyn Morningstar
"Loved every song, especially Somewhere Over the Rainbow. What a jewel your voice is!! Congratulations!" Ellaine
"This CD totally lifts me up when I need it the most. Vicki is such a fabulous artist and is such a blessing to anyone who listens to her music!" Marsha
[wpdevart_youtube]-coVoRCmL1M[/wpdevart_youtube]
"Vicki has such a beautiful but powerful voice. I find it very relaxing and easy to listen to repeatedly. I love the songs on this new CD. Thank you Vicki!"
~Linda L.
For more information about booking Vicki to sing or speak at your event feel free to call, email with any questions you may have.
Phone: 507.830.1000
Email: [email protected]
Here's what people are saying…
"Vicki Lynn King is blessed with a beautiful voice. I really love her new CD- Light Your World!!" Diane V.
"Vicki-I got your new CD. While I loved all the songs, I have to say, the ones that were new to me are amazing! I LOVED Always Be A Child and Today Is The Day.  Go Light Your World is awesome and Gold gives me goose-bumps every time I listen to it! You are incredibly blessed with a beautiful voice!" Nancy T.
"You have an amazing voice! Thank you for sharing it!" Joanne
"Very beautiful, calming, angelic voice…..Great music, love it" Maria
"YOU have such an amazing voice Vicki Lynn! I just listened to the tracks – beautiful!" Kelcy